ST-3500LCD/MS RUGGED HIGH PERFORMANCE AND LIGHTWEIGHT COMPUTER SYSTEM
---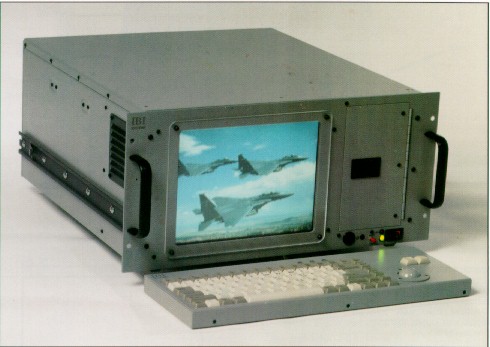 ST-3500LCD/MS is a rugged, high performance and lightweight computer system with built-in active matrix color LCD VGA display. The proper design of the shock-isolated drive cage, card clamps, and hard drive has made the unit meet the MIL-STD-167-1 vibration and MIL-STD-901D shock requirements.
The fan with air filters render dust-free, positive pressure cooling. The vents in the rear panel and a fan in the power supply remove hot air from the unit. A latched door provides easy access to the storage devices and also protects them from dust and harsh environments.
---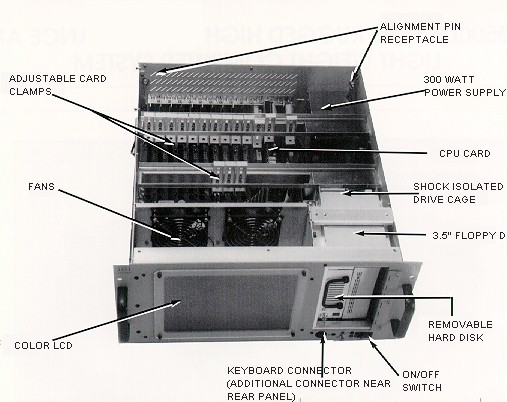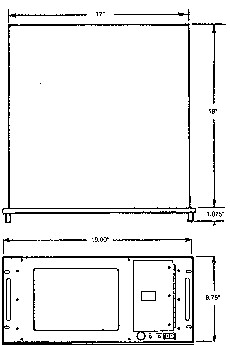 ST-3500LCD/MS STANDARD FEATURES:
14-SLOT ISA PASSIVE BACK PLANE
300 WATT POWER SUPPLY;110/220V AC, 50-400HZ
80486 DX4 75MHZ CPU CARD, 256K CACHE
16MB RAM, UPGRADABLE TO 64MB
640X480 64K COLORS, 10.4" DIAGONAL ACTIVE MATRIX COLOR LCD DISPLAY
ISA BUS TFT VIDEO CARD WITH C&T 545 CHIP SET, 1MB RAM
ADAPTEC AHA-1542B SCSI CONTROLLER CARD
2.1 GB REMOVABLE SHOCK ISOLATED SCSI HARD DRIVE
3.5" 1.44MB SHOCK ISOLATED FLOPPY DRIVE
DUAL CARD CLAMP TO HOLD DOWN PLUG-IN CARDS
SLIDE GUIDES, ALIGNMENT PINS AND RECEPTACLES
RUGGED 84 KEYS KEYBOARD WITH TRACK BALL
WEIGHT: 35 LBS TYPICAL

STANDARD COLOR: GRAY 26307 OF MIL-STD-595

PHYSICAL DIMENSIONS: HEIGHT 8.75", DEPTH 19", WIDTH 19"
ENVIRONMENTAL SPECIFICATIONS:
| | |
| --- | --- |
| NEMA TYPE 12 ENCLOSURE | OPERATING TEMP: 0°C TO 55°C, STORAGE: -20°C TO 70°C |
| HUMIDITY: 5% TO 95% NON-CONDENSING | VIBRATION: MIL-STD-167 TYPE 1 FOR SHIPBOARD |
| SHOCK: MIL-STD-901D LIGHTWEIGHT, GRADE A, CLASS 1 | |
Conducted and radiated emission:

Meets part 15 of FCC rules for Class B computing devices

[HOME] [PRODUCT PAGE]